This event has ended.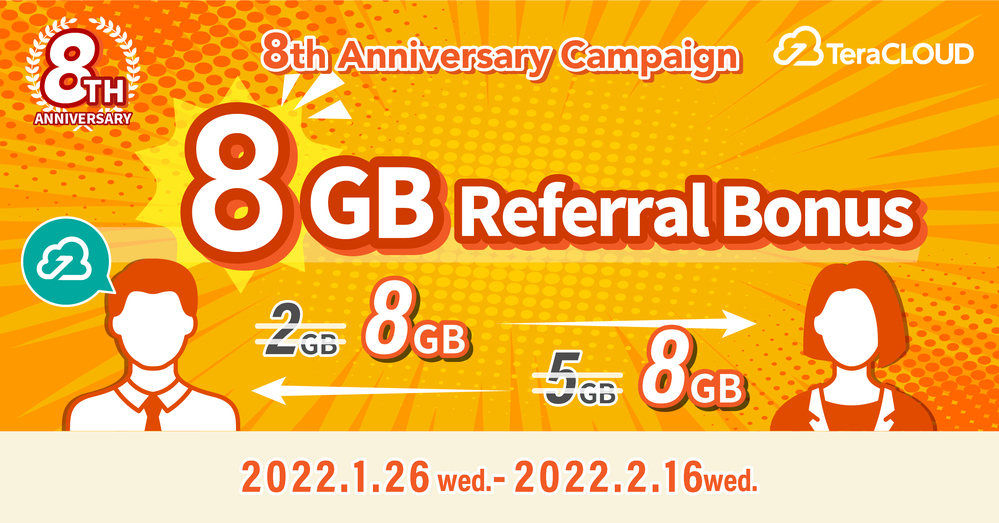 Referral Bonus Increased to +8GB for both referrers and referred!
TeraCLOUD is celebrating its 8th anniversary, and as a token of our appreciation, we are giving out +8GB to those who refer or are referred to TeraCLOUD.
Let's get the word out about TeraCLOUD and get some more space during this limited-time campaign!
About TeraCLOUD's Referral Bonus

Referring User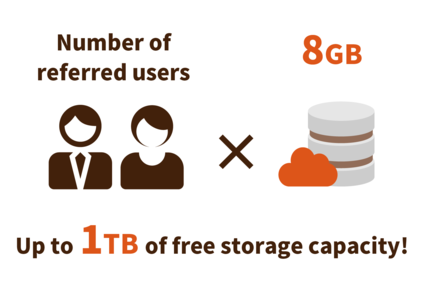 When your friends, family, or colleagues enter your referral code, the referral bonus will be increased to 8GB (4 times the normal 2GB bonus).
The maximum referral bonus that a user can obtain is capped at 1TB.
Each additional bonus (8GB) has a one-year usage period.
Referred User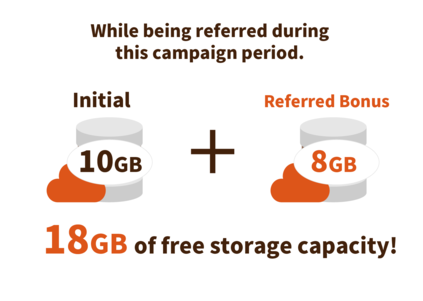 During the promotion period, if you enter your friend's referral code in My Page, you will receive an 8GB bonus (1.6 times the normal 5GB bonus).
Users can use the 10GB of free space they receive when they signup to earn a total of 18GB of lifetime storage!
Detailed Campaign Information
Campaign Name
Increased Referral Bonus! +8GB for both referrals and referrals
Period
January 26, 2022 (Wed) - February 16, 2022 (Wed)
Eligible Participant
All TeraCLOUD account users
Campaign Contents

To commemorate TeraCLOUD's 8th anniversary, the referral bonus has been increased.

Referring User: GB per successful referral
* 8GB bonus for each person referred.
* Storage bonus valid for one year.
*

Maximum referral bonus at any given time is 1TB.

Referred User: 8GB
* Referral code may only be used once.
* Referral code has no expiration period.


Remarks

Referral codes are case-sensitive.
Referral codes can be used and re-entered by other users.

Referred users referral code can only be applied once to their account.
If a recommendation is found to be fraudulent, the referrer will not get a referral incentive and will be ineligible to qualify for all referral bonus.
Accounts will be deactivated and/or deleted if they found guilty of malicious activity.

This campaign may be terminated or the contents may be changed without prior notice.
Ongoing events