InfiniCLOUD: Upgraded service standards in response to new service name change
The following service standards have changed as a result of the news that our service will now be rebranded as InfiniCLOUD.
Increase in initial free account capacity to 20GB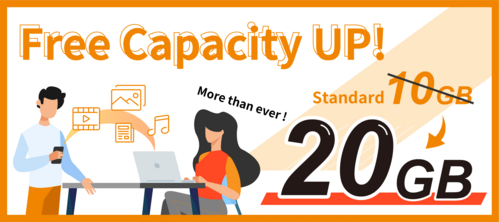 All of the servers for InfiniCLOUD's high-speed, user-friendly, and secure online storage service are located in Japan. To allow more users to experience backing up and sharing large files, we have changed the service's name from TeraCLOUD to InfiniCLOUD and significantly increased the capacity available for use with a free account from 10GB to 20GB.
Increased bonus cap for long-term use bonus to 1,500GB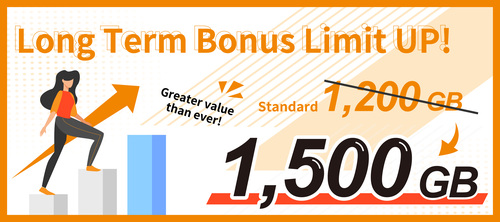 InfiniCLOUD has expanded its maximum long-term service capacity from 1,200GB (3,600 days) to 1,500GB as a thank you to its long-term users (4,500 days).
Increased file upload/download speed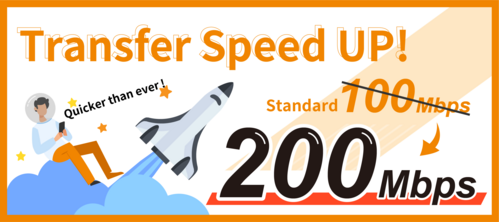 To make it quicker and simpler for our users to use InfiniCLOUD, we increased the maximum transmission speed from 100Mbps to 200Mbps.
Transfer speeds are best effort
---
Update details
Start date
April 3, 2023 (Monday)
Changes and updated content
Changes
Before (Old)
Current (New)
Free account starting capacity
10GB
20GB
Long-term use bonus capacity
10GB every 30 days
Up to 1,200GB (3,600 days)


*subscription required*

10GB every 30 days
Up to 1,500GB (4,500 days)


*subscription required*

Maximum transfer rate
100Mbps
200Mbps
Remarks
Accounts created after April 3rd, 2023 will automatically have an initial capacity of 20GB.
Accounts created not eligible (created April 2nd, 2023 or before) for the automatic 20GB will receive +10GB storage via email (scheduled for early April 2023). The storage link must be clicked to add the storage.
The +10GB storage link must be applied by April 30th, 2023.
The Long-term use bonus is a capacity addition service for paid subscriptions only.
Eligible accounts for the Long-term use bonus will automatically receive an additional bonus based on the contract period.
Capacity details and information can be viewed in My Page.
Transfer speeds are best effort and not guaranteed as effective speeds.
---
Posted April 3, 2023