Unsubscribe from promotional mail
Only paid account members may modify their mail delivery preferences to stop receiving promotional emails from InfiniCLOUD.
For paid account users

If you wish to stop receiving promotional emails, follow the steps below to modify your email settings.
For free account users

Users with a free account can opt out of promotional emails by following one of two methods.

Users with a free account can upgrade to a premium account and receive the ability to unsubscribe from promotional emails through My Page. For information on how to upgrade your account, please click here.

Free users can opt to delete their account and stop using the free service (as stated in the Terms of Service "Conditions for using the service"). For instructions on how to delete your account, please click here.
How to unsubscribe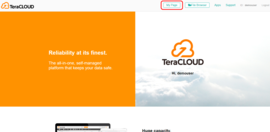 ---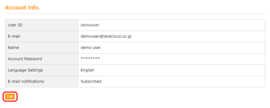 2. Click "Edit."
The "Edit" button is located below "Account info."
---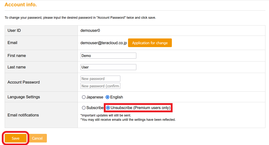 3. Modify the receiving settings.
Select "Unsubscribe" from the "email notifications" tab.
Click the "Save" button.

---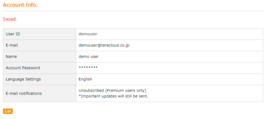 4. The modification is complete.
As soon as the change is reflected, promotional emails will no longer be sent to your account.
Please Note
Mail and information deemed essential for the operation of InfiniCLOUD, such as contract and maintenance notices will be sent regardless of the user's mail preferences.
Changes to your delivery settings will take effect in 1-3 business days. The prior delivery options will stay in effect until the requested change is completed. Users may still receive emails during this time.
---
Updated October 1, 2021