Using CarotDAV with InfiniCLOUD
What is CarotDAV
CarotDAV is a free WebDAV client for Windows. It also supports FTP, FTPS and other protocols and cloud services.
You can upload and download files by connecting to InfiniCLOUD and manage them with the Explorer-like familiar screen. It also features Auto Split, an automatic file dividing tool, and therefore it is more fast and easy to upload large files.
CarotDAV can be downloaded here .
*To turn on or off connections to InfiniCLOUD from applications, it is required to configure from My Page. More details can be found here .

Disclaimer
We confirmed the ability to connect CarotDAV and InfiniCLOUD, as well as the download and upload capabilities, but we cannot guarantee the application's total functionality. Be sure to save a copy of your InfiniCLOUD data in a separate location before trying this application.
If your Apps Password is reissued, it is necessary to reconfigure the password for the connected account.
Please direct all inquiries regarding the application to its vendor.

InfiniCLOUD does not impose any restrictions on data uploads, but depending on your environment, you may be unable to upload large files.
Set up InfiniCLOUD for CarotDAV
The below examples are using CarotDAV 1.16.1
Depending on the user's application version, the screen results may vary.

---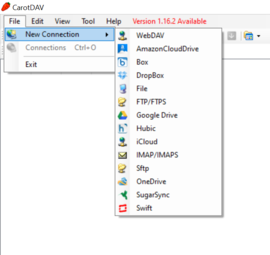 2. Select File

Click
New Connection
and Select
WebDAV
---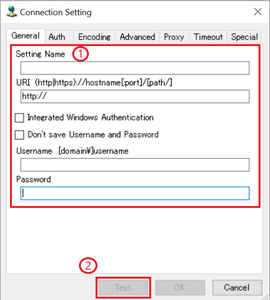 3. Enter your WebDAV connection information
Enter your WebDAV connection login information and click
Test
※ Saving Username and Password information is optional.

Setting Name
Enter a username


Username should be something that is easy to remember (ex. InfiniCLOUD)

URL
Enter your WebDAV Connection URL
(ex. https://sample.teracloud.jp/dav/).
* While Apps Connection is turned on , your WebDAV Connection URL can be confirmed from My Page .
Reference: How do I access and view My Page (account information confirmation page)?
Integrated Windows Authentication
Do not check.
Don't save Username and Password
Check if you do not want to save the your username and password.
Username
Enter your Connection ID.
Case Sensitive

Password
Enter your Apps Password.
* If you forget your password, please reissue in these steps.
Notes
It may take several minutes for external programs to accept newly reissued app credentials. If an error notice appears shortly after reissuing your password, please wait a few minutes before attempting to reconnect.
---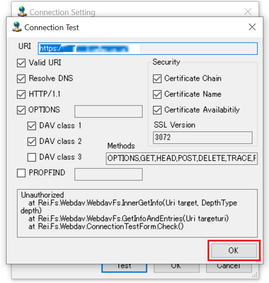 If an error message is displayed, click
OK
and repeat step 3.
---

---

6. Your InfiniCLOUD account is connected
InfiniCLOUD has been successfully connected to CarotDAV.
You can now upload and download files from your computers directory.

---
Connect to InfiniCLOUD

1. Double-click InfiniCLOUD's setting name
---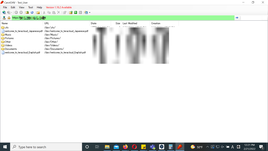 2. InfiniCLOUD is now connected to CarotDAV
---
Upload a file

1. Select the file location

Click Upload

---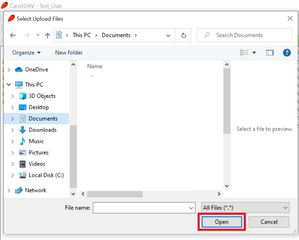 2. Select the file

To select multiple files press the Shift or Ctrl key
Drag and drop is also possible

---
3. Upload will begin

---

4. File upload is complete

There are no limits to the amount of data that may be uploaded at once to InfiniCLOUD, although huge files cannot be uploaded due largely to the environment and program limits.

---
Download

1. Select the file you want to download

To select multiple files press the Shift or Ctrl key
Drag and drop is also possible

---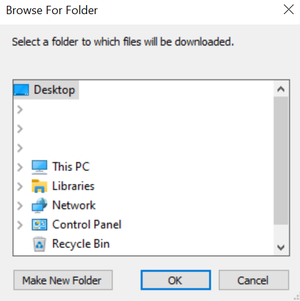 2. Select the download destination

Click OK

---
3. The download will begin
---
About split upload
Since CarotDAV supports division uploading, it is possible to split and upload large files by setting.
Note:
There are divided files on InfiniCLOUD.

With CarotDAV, it is possible to combine split files and download them.

Depending on the size of the split, so many files are uploaded to InfiniCLOUD.

It is recommended that CarotDAV dedicated folder be created and used in InfiniCLOUD.

Using this function may cause trouble. Please use at your own risk.

---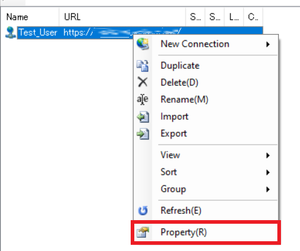 1. Right-click the setting name of InfiniCLOUD

---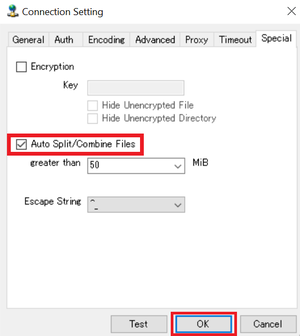 2. Click the Special tab

Check the "Auto Split/Combine Files" box and click
OK
※ The "greater than" option allows you to specify the file split size.

---
Updated June 2, 2021