How to connect GoodSync 11 with InfiniCLOUD
* This document explains how to use GoodSync 11 with InfiniCLOUD. If you use GoodSync 10, please check here.
What is GoodSync?

GoodSync is a sync client software for Windows and macOS. Its high-performance functions allow for users to back up and synchronize their data.
GoodSync is in charge of a "Job," which is a backup or sync task. This page will guide users how to link GoodSync to InfiniCLOUD and back up or sync your files.
* To turn on or off connections to InfiniCLOUD from applications, it is required to configure from My Page. More details can be found here.
Disclaimer
We have confirmed the ability of GoodSync 11 to connect with InfiniCLOUD and back up files: One Way Sync, but this does not amount to a full guarantee of software's functionality.
Synchronization of Jobs may delete or overwrite files on your device and InfiniCLOUD, so unintended deletion or overwriting of data may occur depending on the settings. Be sure to save a copy of your InfiniCLOUD data in a separate location before trying this application.
If your Apps Password is reissued, it is necessary to reconfigure the password for the connected account.
Please direct all inquiries regarding GoodSync to the software vendor.
InfiniCLOUD does not impose any restrictions on data uploads, but depending on your environment, you may have difficulty uploading large files.
How to use
Back up local data to InfiniCLOUD.

1. Launch GoodSync

---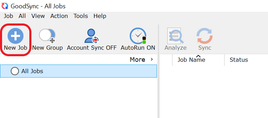 2. Click New Job


Select Backup as the job type.
---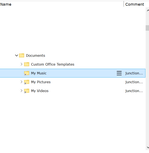 3. Select the file or folder to backup

Select the file or folder you want to back up to InfiniCLOUD.

---

4. Click Add icon

Set the folder on the right by clicking the add icon.

---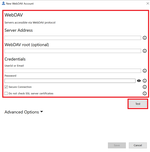 5. Enter WebDAV connection information

Click the
Test
button, then click
Save
---
Notes
It may take several minutes for external programs to accept newly reissued app credentials. If an error notice appears shortly after reissuing your password, please wait a few minutes before attempting to reconnect.
---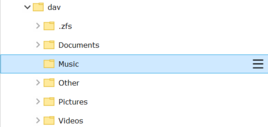 6. Select backup destination

Click Apply

---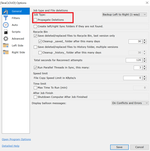 7. Select Option

Uncheck
Propagate Deletion
from the
General
tab.
Notes


Backup jobs perform one-way synchronization. If the box left checked, your files or folders backed up on InfiniCLOUD are deleted when you delete same files or folders on your PC. Please be careful when you use as backup.
---
8. Click Analyze


---

9. Click Sync

Confirm the results

---
10. Backup is complete

Your file have been backed up to your InfiniCLOUD account.

---
Set up Auto Job
Auto Jobs run synchronization to back up automatically when particular events occur or at a specified time. This page only explains basic settings of Auto Job. Advanced or detailed information can be found on GoodSync's official website or contact to GoodSync Support.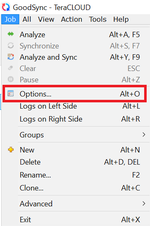 1. Click the Job tab in the upper left

Select Options

---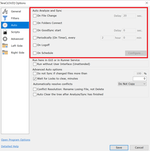 2. Click Auto

Set up the
Auto
tab according to use or purpose, then click
Save

| | |
| --- | --- |
| On File Change | Runs analysis and synchronization when any file on the job changed. |
| On Folders Connect | Runs analysis and synchronization when left and right folders of the job become connected. |
| On GoodSync start | Runs analysis and synchronization when GoodSync is launched. |
| Periodically (On Timer), every | Periodically runs analysis and synchronization every specified hours and minutes. |
| On Logoff | Runs analysis and synchronization just before you log off or relaunch PC. |
| On Schedule | Runs analysis and synchronization every specified time unit values (month, day of the month, day of the week, hour, minute). |
---
Activate GoodSync License
License activation of GoodSync 11 enables to use all features of GoodSync.
1. Select GoodSync Account Setup... from the Tools command

If you do not have a GoodSync account yet, click "Create a new "GoodSync Account" and enter the required information.

---
2. Check "Do Not Serve Files from this Computer's drive"

Click Next

---
3. Click Close

---
4. Select GoodSync Account Manage... from the Tools command

---
5. Click Add Licenses by License Key (Batch Code)

The email address must be verified before the license code can be activated.

---
6. Enter the license key

Click Submit

---
7. The license key has been successfully registered to your account

---
8. Return to GoodSync

Select
Activate License
from the
Help
command
---
9. Check Activate with GoodSync Account

Confirm your email address and click Next

---
10. Your GoodSync License has been successfully activated

---
* Your screen may differ from those depicted here, depending on your application and operating system version.
Updated June 2, 2021