How much is 1 TB?


1 Terabyte (TB) is equivalent to 1,000 Gigabytes (GB).
Laptop internal hard drive (500 GB - 1 TB)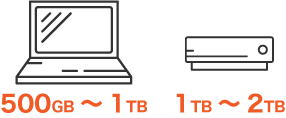 Most laptops have an inbuilt hard drive with a storage capacity ranging from 500 GB to 1 TB. A Solid State Drive (SSD) having a capacity ranging from 240 GB to 500 GB in other circumstances.
External hard drives with storage capacities of 1 TB to 2 TB are often used to store huge files such as images, videos, and music.
How much can 1TB store?

DVD (4.7 GB)

1 TB = about 211 DVDs

Watch a movie once a week
for four years.
Smartphone (16 GB)

1 TB = ~62 smartphones

Back up 31 years of phone data,
replacing your phone every two years.
Digital Camera Photo (4 MB)

1 TB = ~250,000 photos

Take ten photos a day for 68 years.
Book (100 MB)

1 TB = 10,000 books
Read a book everyday for 27 years.
Music (4 minute song, 5MB)

1 TB = 200,000 songs

Play music nonstop for 555 days
without hearing the same song twice.
Movie (100 MB per minute)

1 TB = ~166 hours of video

Record 83 two-hour events in full HD.
InfiniCLOUD can store up to 10TB of data!
Offering online storage from 300 GB up to 10 TB.

Upload essential data to InfiniCLOUD with your smartphone, PC, external hard drive, and other electronic devices. Backups from any device will be handled quickly and easily with the help of a secure, large-capacity cloud storage service. Start today with 20GB of free storage!

Upgrade Plans
Free Account
20GB
Free
Paid Account
+300GB
$7.99 / month
$79.99 / year

+3TB (3,000GB)
$11.99 / month
$119.99 / year
+10TB (10,000GB)
$39.99 / month
$399.99 / year
Prices in Japanese Yen can be found on our homepage when your web browser language settings are set in Japanese.
*All prices include tax.
ZFS Filesystem
InfiniCLOUD has a secure snapshot feature built in to each account to ensure that data may be restored in the event that it is accidentally deleted or overwritten.
This system allows for detailed snapshots to be taken every three hours, saving the last seven snapshots (one day's worth), along with daily detailed snapshots, saving the last fourteen snapshots, allowing accidentally deleted or overwritten data to be easily recovered (two weeks worth).
ZFS snapshot series are saved in the ZFS filesystem. Snapshots maintain the filesystem's content at the time they are made, consuming no space at first. After that, snapshots start to take up space equal to the difference between the data they refer to and the current filesystem state.

*You cannot recover data that is not contained in a ZFS snapshot.
The user's account data area houses all ZFS snapshots. If storage capacity is getting low, snapshots will be removed automatically.* There is not effect on the user's current data when these snapshots are deleted.
InfiniCLOUD relies on values reported by ZFS to determine files consumed capacity in the users account. ZFS capacity calculations differ from other systems such as NTFS, FAT, and HFS+. As a result, files the user uploads might not consume the same amount of space as InfiniCLOUD , as they might in your local device. Differences of approximately 70% to 130% can occur.&br()
More Information: What kind of storage does InfiniCLOUD use?
---
Updated October 1, 2021